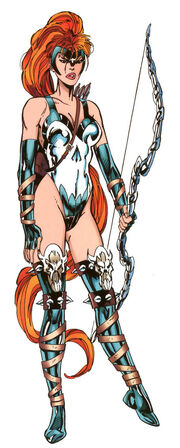 Write the text of your article here!

Artemis Artemis is the Shim'Tar (greatest warrior) of the Egyptian Amazons of Bana-Mighdall. For a short time, she Also held the title of Wonder Woman. (Note: This entry is for DC's Amazon superheroine, who Should not be confused with the Olympian goddess Artemis.) Personal Data Height: 6 '2 "Weight: 155 lbs (70 kg)Eyes: GreenHair: RedUnusual Features: Extremely long hairStatusCitizenship: Egyptian, ThemiscyranPlace of Birth: Mighdall-Bana, EgyptMarital Status: WidowedOccupations: Shim'Tar, Chancellor of Themyscira, Adventurer, former Wonder WomanKnown Relatives: none Powers and Abilities Artemis posses the physical abilities of a peak-level member of the Amazon race: Superhuman strength, speed, agility, reflexes, endurance, and longevity.These powers were maximized after their period of stay in Tartaro that has become a demon hunter. She is Able to lift 95 tons under normal conditions. In addition, she is one of the Amazons' most Accomplished warriors and is a master of hand-to-hand combat, swordfighting, and archery. Artemis is the equal of Diana (Wonder Woman) in combat, though her fighting style is far more aggressive, Which Contrasts with more Diana's Measured Approach. Because she never holds back, Artemis has beaten Diana Often When They have Fought, and She Believes herself to be the superior fighter. Artemis' mastery of arms includes the Ability to expertly construct bows, arrows, and many other weapons by hand. Considerable mechanical ingenuity she can and is Able to Quickly useful fashion implements out of any available material, such as When She braided the sturdy rope out of her own hair and then it Both employed as a means of escape and as a weapon. The Shim'tar of the Bana Amazons, Artemis owns magical armor Shim'tar Which Provides a high degree of invulnerability. During her time the Wonder Woman, Artemis Also Possessed the Gauntlet of Atlas (Which Increased her strength tenfold, Allowing her to lift well over 100 tons), the Sandals of Hermes (giving her the Ability to fly), and the Lasso of Truth. The Wonder Woman, Artemis usually favored using her personal weapons (the bow and arrow) over the lasso. Artemis Learned many skills sorcery During her time in the Underworld, including the Ability to assume the form of another person or animal, though using this power expends a Considerable amount of her energy. Can she reverse the effects of spells cast by demonic forces, and has the power to sense the presence of the demons matter how well disguised They Are. Thanks to the sorceress Circe, Artemis Also is immortal.Artemis, was chosen by Diana as the representative of the Amazons Themiscyra, in the world the Patriarchate , member of the New Global Guardians in the hope that living with so many personalities cosmopolitan, serve to civilize, a little, Artemis.
Ad blocker interference detected!
Wikia is a free-to-use site that makes money from advertising. We have a modified experience for viewers using ad blockers

Wikia is not accessible if you've made further modifications. Remove the custom ad blocker rule(s) and the page will load as expected.